Dr. Rayfel Schneider: SickKids leader in pediatric rheumatology to receive CPSO Council Award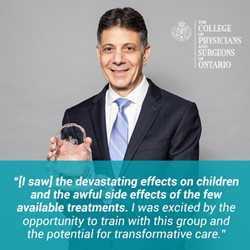 On Friday, March 1, the Council of the College of Physicians and Surgeons of Ontario (CPSO) presented its Council Award to Dr. Rayfel Schneider at its meeting in Toronto.
Dr. Schneider is a leader in the development of new treatments and standards of care in juvenile arthritis and associated inflammatory diseases. He is a staff physician at The Hospital for Sick Children (SickKids) in Toronto and a Professor of Pediatrics and the Associate Chair (Education) in the Department of Pediatrics at the University of Toronto. Dr. Schneider previously served as the Chief of the Division of Paediatric Rheumatology at SickKids and as the university's Pediatric Rheumatology Program Director.
Over the course of his career, Dr. Schneider has built a solid reputation as a devoted and talented physician and is viewed by peers, co-workers patients and families as being extremely knowledgeable and caring.
A key contributor to ground-breaking pediatric rheumatology research and an internationally recognized expert in systemic juvenile idiopathic arthritis, Dr. Schneider's scientific contributions have led to new biologic therapies to manage juvenile arthritis – changing the trajectory and prognosis for young patients through more effective, less toxic treatments.
In his roles as an academic and a clinician, Dr. Schneider has trained and mentored hundreds of national and international medical students and residents. Former trainees, many of whom are now also respected leaders in pediatric rheumatology, acknowledge him as a major influencer on their careers.
"Dr. Schneider's academic and scientific contributions, and his devotion to improving the care outcomes for children facing juvenile arthritis make him an example of an outstanding physician," said College President, Dr. Peeter Poldre. "The College Council is proud to recognize his achievements with this award."
The College of Physicians and Surgeons of Ontario is the licensing and regulatory body governing the practice of medicine in Ontario. The Council Award is presented four times a year to physicians who have demonstrated excellence in the eight physician roles identified as the essential qualities needed to practise modern medicine. Together, these roles create a model for the ideal physician. Further details on the Council Award webpage on the CPSO website.
Contact: CPSO Communications
416-967-2600, ext. 611