CPSO Honours Dr. "Michelle" Hladunewich for Transforming the lives of Women with Pregnancy-Related Kidney Disorders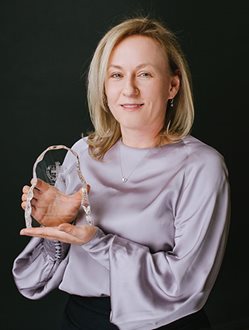 (Toronto) On December 5, 2019 The College of Physicians and Surgeons of Ontario awarded Dr. Hladunewich (known as "Dr. Michelle" to her patients) the 2019 Council Award for her incredible impact on high-risk pregnancies in the Ontario, where she has helped hundreds of women living with renal disease have children. Most notably, she is changing a long-held convention that women should wait until after a kidney transplant before becoming pregnant. Dr. Michelle has worked with 30 women on dialysis to deliver healthy babies.
As the Physician-in-Chief at Sunnybrook Health Sciences Centre in Toronto and founder and lead at Sunnybrook's Pregnancy and Kidney Disease Clinic, her impact has spread. The clinic has become a training centre for medical students and nephrology specialists, many of whom travel from around the globe to learn how to set up similar programs in their communities.
"Dr. Michelle carries compassion and a fierce commitment to patient-centred care that prioritizes the patient's right to make health care decisions based not only on risk, but also on the path of their own choosing," said CPSO council public member, Ellen Mary Mills.
"Ontario is very fortunate to have physicians like Dr. Michelle Hladunewich, whose passion and commitment is making significant impacts in women's health care while also developing and delivering a trusting relationship with their patients," said CPSO's incoming President Dr. Brenda Copps. "We're proud to take this moment and recognize this incredible and inspirational contribution to Ontario patients."
The College of Physicians and Surgeons of Ontario is the licensing and regulatory body governing the practice of medicine in Ontario. The Council Award is presented four times a year to physicians who have demonstrated excellence in the eight physician roles identified as the essential qualities needed to practise modern medicine. Together, these roles create a model for the ideal physician. Find further details on the Council Award webpage.
More information on Dr. Michelle Hladunewich:
Dr. Hladunewich obtained her medical qualifications at the Universities of Alberta and Toronto, followed by fellowships in Nephrology and Critical Care at Stanford University. She is a frequent guest speaker and lecturer at international societies, including the American Society of Nephrology, the International Society of Nephrology and the National Kidney Foundation, and has visiting professorships at Stanford, the Mayo Clinic, the University of North Carolina, Northwestern and Penn State Universities.