Dr. Marie Gear Honoured for a Career of Service, Excellence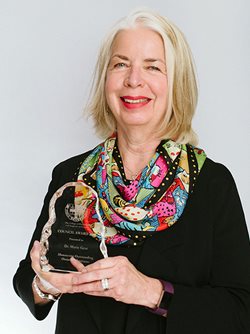 On Thursday, July 30th, the College of Physicians and Surgeons of Ontario (CPSO) presented its Council Award to Dr. Marie Gear.
Dr. Gear was nominated for the award by the Municipality of South Bruce Council in recognition of her long and distinguished career of service to the community. Her nomination received additional letters of support from physicians, patients and leaders throughout region. The Council Award is presented at each meeting of Council to honour outstanding Ontario physicians who have demonstrated excellence.
In December, Dr. Gear retired from practice after nearly four decades of health-care leadership, including running a busy family practice in Teeswater. She also worked in the Wingham and District Hospital doing in-patient care, anaesthesia, emergency room coverage, obstetrics and surgical assist, as well as working at the hospital's satellite oncology clinic. As a physician leader, Dr. Gear also served on numerous hospital committees and as Chief of Staff at the Wingham hospital, as well as being a long-serving board member at the Wingham hospital and then on the Wingham-Listowel Memorial Hospital Alliance board.
"With her passion, tenacity, respect and kindness, Dr. Gear has provided a tremendous example of what we all aspire to as physicians," said College President, Dr. Peeter Poldre. "The College Council is proud to recognize her contribution to her patients and her community with this award."
For her work, Dr. Gear has previously been awarded the Rural Service Award from the Society of Rural Physicians of Canada and the Outstanding Community Service Award by the South West Community Care Access Centre.
The College of Physicians and Surgeons of Ontario is the licensing and regulatory body governing the practice of medicine in Ontario. The Council Award is presented four times a year to physicians who have demonstrated excellence in the eight physician roles identified as the essential qualities needed to practise modern medicine. Together, these roles create a model for the ideal physician. Find further details on the Council Award webpage.
Media Contact:
Shae Greenfield
Senior Communications Advisor – Media Relations & Issues Management
Phone: 416-967-2600 ext. 611